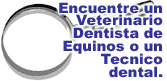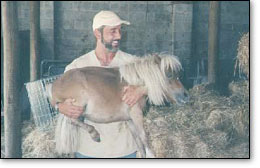 Caballo miniatura con problemas dentales.

SITIOS RELACIONADOS
International Association of Equine Dentistry (IAED)
British Equine Veterinary Association
Equine Dental Providers of America
Equine Dental Equipment Suppliers
Sombrero Ranches
Bitterroot Ranch
Days End Farm Horse Rescue
Equine Rescue League
Mill Creek Farm Retirement Home
Vet Technicians
Gervet Dental Equipment

SITES BY FORMER STUDENTS
Piakaj.dk - Denmark
Kilby's Equine Smile Restoration - Pennsylvania, USA
Lotte Engels - Netherlands
Alessandra Ariasi - Italy
Jerry Gaona - California, USA
From The Horse's Mouth, LLC - Mass., USA
Alberto Cotelo - Spain
Catharine von Goethem - Netherlands
Paul Drake: Equine Dentistry - Maryland, USA
Equine Treatment Centre - Kim Neil, New Zealand
Miguel Echavarrias - Columbia, S.A.
Equidontia - Donovan Lamerton, South Africa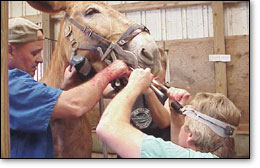 El Dr. Hyde extryendo un molar de una mula.

DISEÑO Y MANTENIMIENTO
Pro Design

Si tiene alguna pregunta sobre el diseño de la página, o si desea contratarnos para diseñar/mantener/mazteizar una página, por favor contactenos sin compromiso a brian@professionaldesign.com.