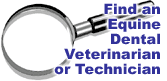 SITES BY FORMER STUDENTS
Piakaj.dk - Denmark
Kilby's Equine Smile Restoration - Pennsylvania, USA
Lotte Engels - Netherlands
Alessandra Ariasi - Italy
Toni Kilvington - New Zealand
Jerry Gaona - California, USA
From The Horse's Mouth, LLC - Mass., USA
Alberto Cotelo - Spain
Graeme Martin Equine Dental Services - South Africa
Jenny Johansson - Sweden
Joanne Jovicic - Wales
Diana Marx - Germany
Catharine von Goethem - Netherlands
Paul Drake: Equine Dentistry - Maryland, USA
Equine Treatment Centre - Kim Neil, New Zealand
Jenny's Horse Dentistry - Sweden
C.S.J. Equine Dental Services - Middletown, DE
Miguel Echavarrias - Columbia, S.A.

WEB DESIGN & MAINTENANCE
Pro Design

If you have any questions concerning this web page's design, or if you would like to hire me as a web designer/manager/master, please feel free to contact me at brian@professionaldesign.com.