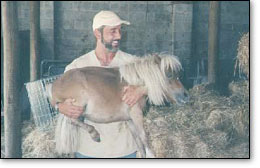 Dwarf miniature with dental problems.
RELATED SITES
International Association of Equine Dentistry (IAED)
British Equine Veterinary Association
Equine Dental Providers of America
Equine Dental Equipment Suppliers
Sombrero Ranches
Bitterroot Ranch
Days End Farm Horse Rescue
Equine Rescue League
Mill Creek Farm Retirement Home
Vet Technicians
Gervet Dental Equipment

SITES BY FORMER STUDENTS
Piakaj.dk - Denmark
Alessandra Ariasi - Italy
Jerry Gaona - California, USA
Catharine von Goethem - Netherlands
Paul Drake: Equine Dentistry - Maryland, USA
Equine Treatment Centre - Kim Neil, New Zealand
Equidontia - Donovan Lamerton, South Africa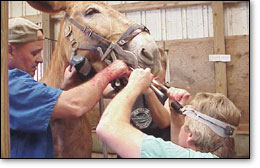 Dr. Hyde extracting molar from mule.

WEB DESIGN & MAINTENANCE
Pro Design

If you have any questions concerning this website, please contact me at brian@professionaldesign.com.