INTRODUCTION TO EQUINE DENTISTRY - COURSE WORK
---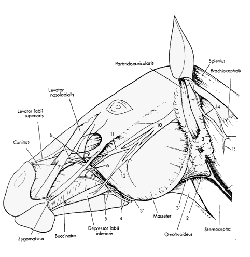 The program's course work includes class work in Anatomy, Physiology, Pharmacology, Equine Behavior, Terminology, Performance Dentistry, Disease, Business, Equipment and Tools, Professional Ethics, Etc., along with extensive hands-on learning facilitated by veterinarians and equine dental technicians with years of valuable experience.

Learning is facilitated by the use of lectures, demonstrations, evaluating equine skulls, dissection of equine heads, and examination of live horses. An extensive library of veterinary texts and videos are available for review. All course work is directly given or supervised by Dr. Hyde. The 4-week Introductory course is rated as 260 hours with classroom, hands-on and pre-class assignments.

Students travel to nearby horse farms with the instructors and Dr. Hyde to develop their skills by observing and assisting in the performance of equine dental procedures on 200+ horses per four week period depending on the class size. Usually we accommodate between 6 and 12 students.

CASE EXAMPLES: Case One | Case Two | Case Three | Case Four | Case Five | Case Six | Case Seven